About Me
Nicknames: Unicorngirl, the lazy unicorn, Uni
Real name: Katrina (yes, like the hurricane)
Bday: 12 Oct
Age: A lady never reveals her age.
Sign: Libra, Virgo Rising
Hair: Blonde
Eyes: Blue
Height: 5'1"
Lives: Middle of Nowhere, Iowa
Hometown: A teeny Upper Michigan town on Lake Superior
Occupation: librarian
Aspiring occupation: writer, movie reviewer, vampire hunter, cool librarian





Five Words: Small Critical Hipster Artist Bitch
Favorite cuss: Bugger(ing)
Favorite word for vagina: Hoo-ha
Secret desire: To be an indy rock frontwoman
If I could dye my hair one drastic color: Tardis blue
$10,000 to blow: Fly to Europe, wander around til gone broke
Dinner with three dead people: George Harrison, Oscar Wilde, and Alexander McQueen
Flip a shit if you take away my: cable TV
Strangest talent: I win at 5-finger death

^ Random thing I made some time ago
Favorite ...
Hobbies (besides dolling): Movie reviews, blogging, fashion and styling, 2- and 3-D art, bicycling
Food: Sushi, asian food, eggs, spaghetti, blueberry cobbler, popcorn, pomegranates
Sort of food: ramen, root beer float, gummy worms, nerds, hello panda, Dr. Pepper, vanilla frappuccino
Movies: (I own) Jurassic Park, The Lost World, AI, Marie Antoinette, The Village, How to Draw a Bunny, Sleepy Hollow, Ye Yan, Snatch, Sunshine, Walk the Line, Titus, Blade Runner, Memoirs of a Geisha, Sense and Sensibility, Dead Man, Bridget Jones' Diary, Whale Rider, The Transporter, Once Upon a Time in Mexico; (I want) Brick, Raiders of the Lost Ark, Howl's Moving Castle, Candy, The Thing (1982), Whip It, American Beauty, Forbidden Planet, The Strangers, Let the Right One In, The Cabinet of Dr. Caligari, Inception, From Dusk Til Dawn, Eastern Promises, Brokeback Mountain
TV: Lost, The X-Files, Doctor Who, Star Trek, Babylon 5, Stargate Universe, Dead Like Me, House, Ghost Hunters, AFV, Project Runway, What Not to Wear, King of the Hill, Adventure Time, Regular Show
Music: 22-20s, Absentstar, Bat for Lashes, The Beatles, Bloc Party, The Boxer Rebellion, Bread, The Cooper Temple Clause, CCR, David Bowie, The Dead Weather, Donovan, Gliss, The Heavy, The Hives, Iron & Wine, The Killers, Kings of Leon, La Rocca, Lady Gaga, Lifehouse, Maroon 5, MGMT, Muse, The Music, Ocean Colour Scheme, On a Sun, Polly Scattergood, Putois, The Raconteurs, Radiohead, Regina Spektor, The Rolling Stones, Serj Tankian, Silversun Pickups, Sia, Simon & Garfunkle, Stereophonics, The Strokes, Supergrass, Tommy Roe, The Verve, The White Lies, Wolfmother, Yeah Yeah Yeahs
Writers: Asimov, Robin McKinley, Anne Rice, Oscar Wilde, Edgar Allen Poe, Sara Teasdale, Sylvia Plath
Books: Jurassic Park, Lord of the Flies, Better than Running at Night, Watership Down, Shadow of the Wind, Watchmen, Lost Souls, Memoirs of a Geisha
Magazines: Vogue, Nylon, Real Simple, ArtNews
Characters you will find here


Britty Kitty
Started out as a cat-girl, when I first started dolling, then gradually had "plastic surgery" to turn into a regular human. My site mascot and sort of bouncer, who protects my art from theives with a mean stare. Not good at keeping the place cleaned up tho. Never has the same hair color for more than a few months; no idea what original is. Fun-loving and totally irreverent, brash, swears like a sailor, drinks too much sometimes. Obsessed with Nightcrawler. Bday: 4 May. Occupation: alternative model. Tats: Purple crown on lower ribcage, cursive N on back of neck, Chinese character "neko" on shoulder.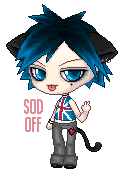 By Friends: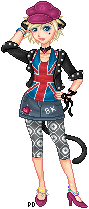 Frenchie Kitty
Created as a foil for Britty, he is very stuck up and French obv. He likes ciggies, high-collared clothing, coffee, and zipping around on his scooter.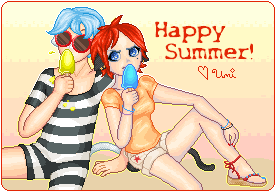 Sorscha
Alien character created for a space pageant and redolled a few times. A biologist studying an endangered desert ecosystem on her planet, where smell is the second most important sense and the perfume industry is huge. Laid-back but tenacious.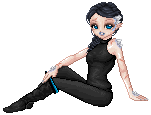 Ankh
A vampire character of mine who is fun to doll because she's an albino. She's a very slight girl who looks innocent, but she will rip your head off. Not evil but somewhat undisciplined. Likes grunge/southwestern/indy chic, like she stepped out of a Quentin Tarantino movie.



Memini
My sort of retro/noir indy girl, with her signature black bob and fleece-lined bomber jacket. Her name is some tense of the Latin word for "remember." She's kind of a lady (in the 1950s sense) but with an edge - she's the lady your parents warned you about in the 50s I guess lol. Kinda forgot about her - why did I do that?? I made a base inspired by her too, called M. M. (middle two).


Daly
Gender reversal of Dale Gribble from King of the Hill I dolled on a lark and ended up fancying. Rocking the redneck sexy, likes bugs (but not to kill them), beer, and her truck, and thinks everything is a conspiracy.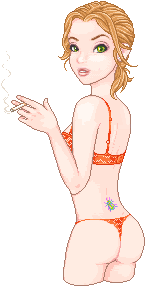 Astritt
Red-headed assassin/agent for hire with a bad attitude but a smooth way of operating. Name suggested by
Mouldycat
; as + tritt (German for "kick") = kickass :) Weapon of choice: bazooka, or when more subtly required, short Japanese sword. Likes pink and black leather, and doing her job with a little intimidating style.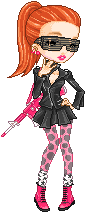 Agnes Ahn
Created for Mouldycat's Miss Safety Pins contest and took on a life of her own. She's half Cambodian and goes to a private school in California. She's punky but softspoken, likes ciggies but not alcohol, and has killer style.




By Luh Scaglione:




Reika
Faery stag creature who lives deep in the woods. Can be full stag or full human form, but likes to keep antlers; magic is mostly visual in nature, shapeshifting and invisibility. Red eyes you don't want fixed on you. Viscious and unfriendly, especially to strangers, humans, anything that annoys her. Likes to entice hunters, then kill them when they think they've got themselves a deer. Likes other animals, forest creatures, magical creatures that are indifferent or weaker than her.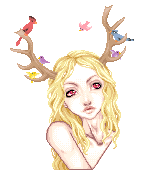 Claudine
My new site mascot after Britty retired to Cornwall. She can appear as both unicorn and human-with-horn. She has night sky blue hair and in her unicorn form, a greige (grey-purple) coat. She sometimes appears with a mark on her rump of a safety pin when she wanders into Equestria. She doesn't sleep (likes coffee), likes to smoke, and is really fun if you get past her potty mouth and very sharp horn. She will waste you if you try to steal my work ... if she's not too wasted.
Azrael the Cat
From a defunct story - the only thing I liked about it was the cat, so I kept him on. ;) He is an ancient wizard type cat, a little pissed that he's got the mind of a magical genius stuck in a cat's body. He has a grey spade on his forehead and his own magic wand. This guy is a commission from
Maudee
.



Pixel BF: Malcolm Reed
It's true, I couldn't help myself. Have dolled "self" and the Star Trek Enterprise armory officer quite a few times over the years. Rather forgot about him for a while, but he's just too adorable. Kind of amicable ex/pixel boyfriend now.